A Solar Pool Light can add some nice decoration and security around your pool. Use the power of the sun to run the light instead of spending more money on energy.
Put Lights Around The Pool Or Even In The Pool
There are many designs of Solar Landscaping Lights that look beautiful in the front yard, back garden, around the pool, anywhere you want. Choose one low to the ground, on a stand or mounted on a wall. Using solar is wonderful way to add light as well as charm to your outdoor pool area.
Even more unique are solar lights and decorations that float in the water like Gaiam's Solar Island Fountain
 that spouts water up to 17 inches high when in direct sunlight, all using solar energy.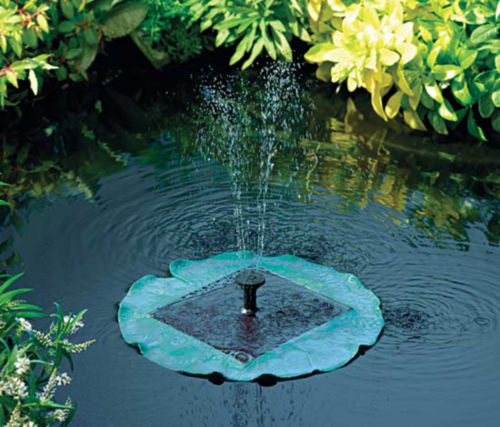 Solar Island Fountain
Don't Forget The Energy Efficient Bulbs!
Solar Power
 and Energy Efficient bulbs make a great money saving combination. The two most common energy efficient light bulbs are
Light Emitting Diode Lamps (LED's) and
Compact Fluorescent Lamps (CFL's).
Both types use less energy and last longer than regular bulbs.
Limitations Of Solar Lighting
Of course, solar lights need sun or they won't work. If you have a pool, you probably get a strong amount of sun at least during the swimming season. Our Outdoor Solar Lighting page has more information on solar lighting in general and on other styles of solar lighting you may want to use around your home.